***Roger Jacobs has joined the American Inns of Court***
Roger Jacobs has recently completed arbitration for private parties regarding an employment dispute. He is available for private arbitration and mediation of disputes in court or before.
He is also an expert at workplace investigations.
Info
Roger Jacobs has more than thirty years in practice as an attorney in New York and New Jersey. His practice experience includes labor and employment and business disputes of all kinds. He has represented large and small employers and senior executives alike over the years. Many of his cases have been precedent setting around th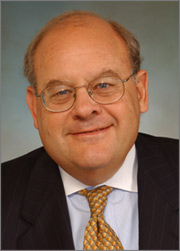 e county.
Roger Jacobs taught at Fordham Law School for twelve years where he taught Bargaining and held the rank of Professor. He currently teaches as the Rutgers School of Management and Labor Relations and has taught classes on employee handbooks and policies; realities of the Americans With Disabilities Act; and dealing with troubled employees, among other subjects. He is a recognized expert in workplace disputes and also has a great deal of litigation experience having handled cases in various courts of appeals around the United States as well as courts in New York and New Jersey.
Trisha Paultz is Practice Administrator. She has worked as Roger Jacobs' Administrative Assistant for sixteen years. Trisha is responsible for all scheduling and calendar issues.
---
ONLINE SCHEDULING CALENDAR

Please click your preferred available date below to submit an
Appointment Request email direct to Trisha Paultz...
---
News
ROGER JACOBS will be discussing mediation of workplace harassment disputes at an ICLE Workplace Harassment Seminar at the Hyatt Morristown on January 30. For more information go to http://www.njicle.com/viewprogram.aspx?catid=2102&progid=7167.
***On Friday, November 9, 2012, Roger B. Jacobs will be appearing on Shep Cohen's "The World of Work" radio show with Steve Somes, President of Capital Public Affairs, discussing the 2012 election. The show can be found on WDVR FM at 89.7 or 91.9 FM.***
Congratulations to the winners from the FINRA Dispute Resolution Triathlon in October. The winning teams were: Negotiation - Brooklyn Law School (Team A); Mediation - Cornell University School of Law (Team K); Arbitration - South Texas College of Law (Team O); Advocate's Choice (voted by competitors as the team that demonstrated skill, competence, and professionalism) - Syracuse University College of Law (Team P); and Overall Winner - Texas Wesleyan University School of Law (Team Q).
It was my pleasure to again participate. This time I was a judge in the Negotiation session. This is a terrific program. Thanks particularly to Ken Andrichik, Senior Vice President at FINRA, and St. John's School of Law for putting it together. I always enjoy participating. As usual, the students were excellent.
Rogers Jacobs has been instated to the Arbitration Panels at the American Arbitration Association and the Federal Mediation and Conciliation Service. In March 2013, Roger Jacobs was named as a Charter Member of the NJ Chapter, National Academy of Distinguished Neutrals...
....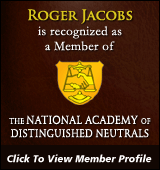 Roger Jacobs brings the unique ability to mediate the case, having engaged in extensive discovery monitoring of cases,
Jacobs is also conducting fact-finding and independent investigations of workplace incidents.
For more information call Roger Jacobs at 973-226-0499.